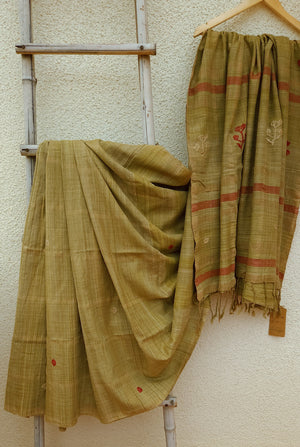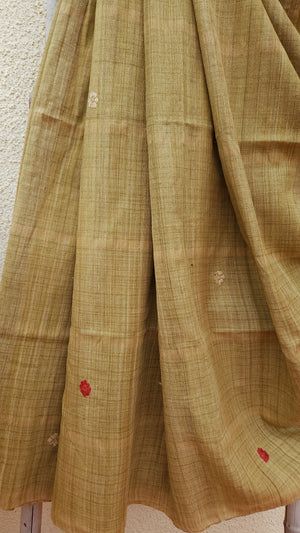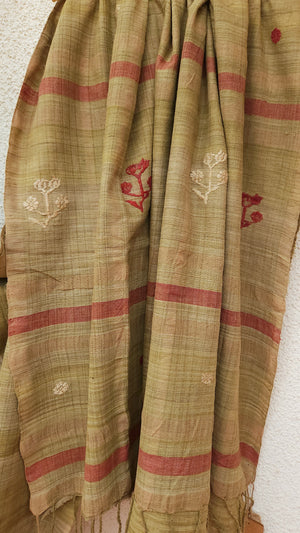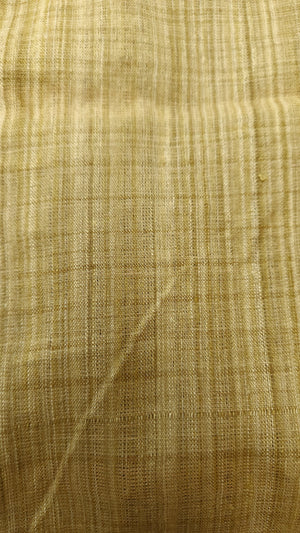 'HARITA' Handspun Handwoven Naturally dyed Eri Silk
This saree is a handspun and handwoven, green Eri silk with extra weft motifs in 'Muga ghisa', and red from the hinterlands of Assam. The body has tiny floral motifs in muga ghisa and red. The pallu also has similar florals plus tree like patterns. Naturally dyed -  onion peels have been used for the green and manjistha and sappan wood for the red motifs. This saree is a slow and sustainable product that you would be proud to own.
Material: Handwoven, handspun X handspun Eri Silk
Dyes: Natural dyes
Expected Delivery: Within 3-5 working days from the date of the order
Measurements:

Saree Length – 5.6 meters
Saree Width – 46.5 inches
Blouse Length - 100 cm (last shot)
Weight - 650 gm
Color: Pale green
Wash Care: Dry clean only (natural colors tend to bleed in the first wash)
About Eri silk: Eri silk is a versatile fabric - cool  in summers and warm in winters. We love the subtle elegant lustre of this silk. 'Eri' is derived from the word 'era' meaning castor in Assamese, indicative of the silk worms feeding on the castor oil plants.
Usually, silk cocoons are boiled with the worm inside, however, in case of Eri, the silkworm (Samia Cynthia Ricini) creates a cocoon that is open at one end spinning short segments of fibres which enables the moth to escape to emerge. The fibres obtained are not long and continuous like mulberry and other natural silks but are shorter and more wooly in texture. Eri silk is therefore, also referred to as the Ahimsa silk or peace silk. 
The fabric is iso-thermal, highly breathable, hypoallergenic and is also said to have anti-fungal/ bacterial qualities. It gets softer with wear and can be worn all year round.
Product Note
This is a completely handmade product from craftspeople and therefore, slight variations in colors or design may occur across pieces. Any slight irregularities are distinctive and inherent to the beauty of this creation due to the nature of the product. e have tried to capture the color in natural light, however there may be slight variations due to individual screen settings.
We hope you enjoy draping this wearable art which is truly a labor of love. Our weavers and artisans put in their utmost efforts and skills in making these products, which are a living testimony of our country's rich and diverse cultural heritage.
Shipping & Return
We ship across the globe.
Shipping is free within India for all our orders.
For all international orders, we charge the customer at actuals. We use DHL, Aramex or Fedex depending on the service availability and cost for the location.
Since these sarees are made-to-order, we will not be accepting return on these unless there is any major defect in the saree.